The Town Council's offices will remain closed to the public until January 2021.

Whilst the office is closed to visitors, you are still able to access information from this website or contact us via the contact page or call 01268 683965.
Please see the latest coronavirus update from Essex County Council regarding the high local covid alert level.

From midnight on Friday 16 October, Essex will move from medium to high alert level.
Check the latest guidance on GOV.UK to keep yourself and others safe.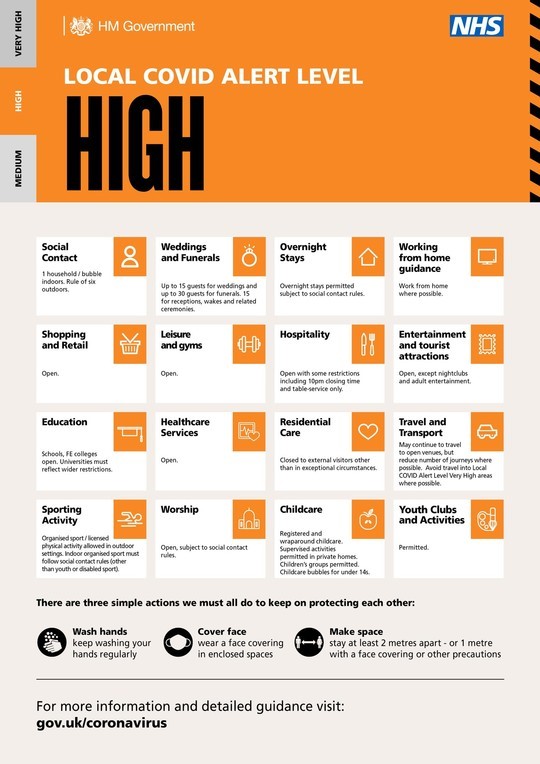 Town Council and Government response
Town Council Business Continiuty Plan
and
Return to Work Risk Assessment
Please contact Castle Point Borough Council on 01268 882200 who will arrange delivery of pink recycling sacks. Pink sacks are also available for collection from Canvey Library. Green sacks and food waste bags, need to be ordered through Castle Point's online shop. For any more information regarding services provided by Castle Point Borough Council, please see their website
Castle Point Borough Council
Government Information Regarding Coronavirus
Government Hotlines
| | |
| --- | --- |
| HMRC | 0800 015 9559 |
| Universal Credit: | 0800 328 5644 |
| School Closures: | 0800 046 8687 |
| NHS: | 111.nhs.uk or 111 |
Essex County Council
| | |
| --- | --- |
| Covid-19 updates | www.essex.gov.uk/coronavirus |
| Essex Coronavirus Action | Facebook page, gives useful and legitimate advice |
| Essex Welfare Service | 0300 303 9988 |
| Essex Highways | www.essex.gov.uk/highways |
| Domestic Abuse | www.essexcompass.org.uk or 0330 333 7 444 |
| Births Deaths and Marriages | https://www.essex.gov.uk/topic/births-ceremonies-deaths |
| Healthwatch Essex | www.healthwatchessex.org.uk |
If you are self isolating
If you are self Isolating or have a long term health condition, lonely and Isolated, house bound, in need of picking up shopping or in need of a friendly phone call then please contact CAVS Ways to Wellness team who will be happy to help on 01268 214000 or email: wellness@cavsorg.uk
CAVS are open Monday to Friday 9am-5pm.
Out of these hours please either leave a message or email: wellness@cavsorg.uk
For more information regarding NHS Pescription Services click here

For information getting food and supplies to those most vulnerable please call Essex Wellbeing Service on 0300 303 9988

Yellow Door Food Bank is open for those in need, for more information please visit their website Yellow Door